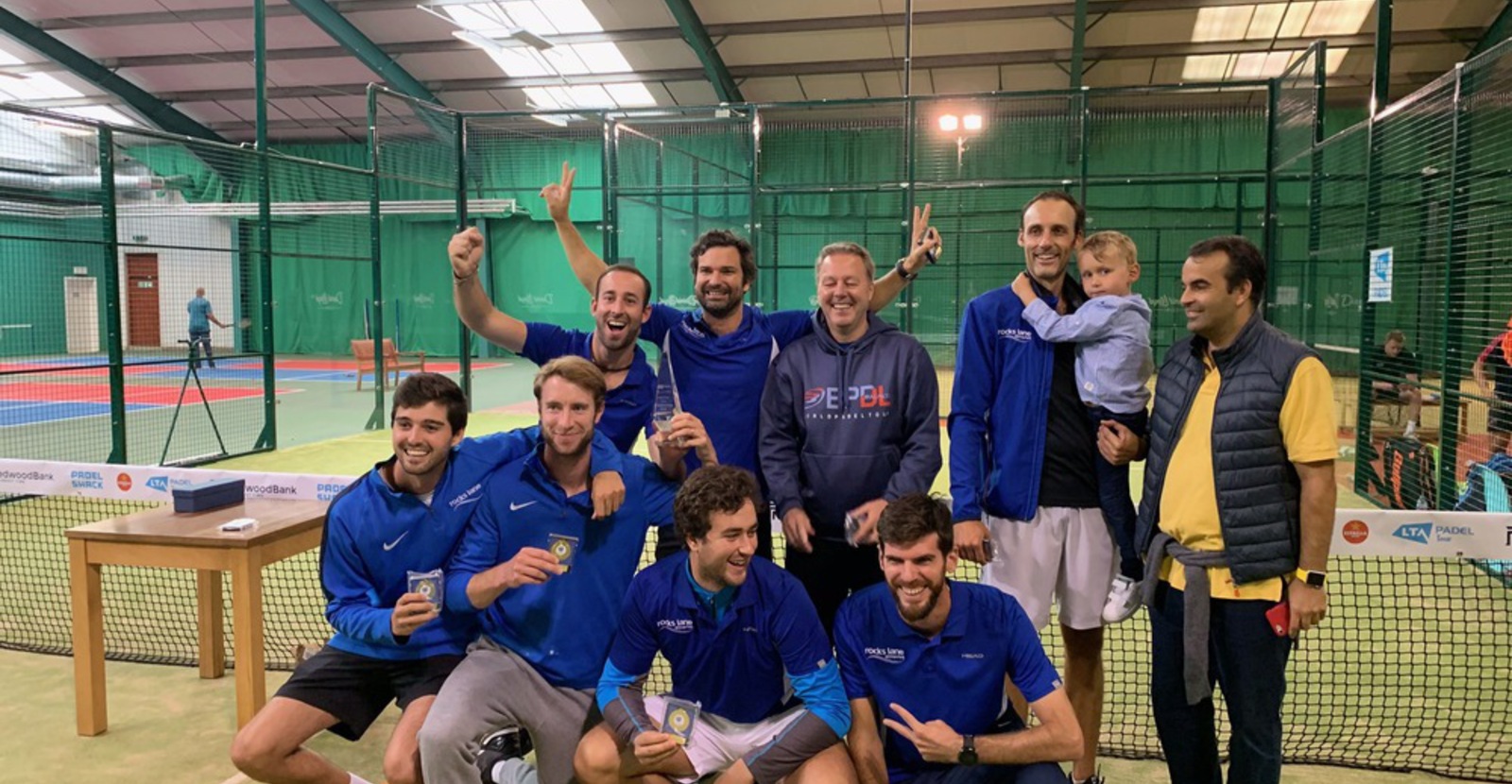 Redwood Bank National Padel Club Championships 2019
Champions: London Padel Centre at Bishops Park
"
I am so proud of all of our staff, coaches and players at our centre who have in just one year become the best team in the UK and inspired over 750 players to give padel a go!
Chris Warren
Owner of the London Padel Centre
"
The finals of the first ever Redwood Bank British Club Padel Championships were held at David Lloyd Bushey on the 21st & 22nd September 2019. The competition was fierce and the standard of padel excellent from all teams. Thanks to LTA Padel for organising, David Lloyd Bushey for hosting and to sponsors Redwood Bank and Padelshack.
The format was 2 groups of 4 who had qualified from regional play-offs earlier in the year with the top 2 qualifying for the semi finals.
Group A
David Lloyd Bushey
Middlesbrough Padel Club
Chelsea Harbour Club
David Lloyd Chigwell
Group B
London Padel Centre
Stratford Padel Club
Huddersfield LTC
Hazelwood Padel Club
Semi Finals:
David Lloyd Bushey v Stratford Padel Club
London Padel Centre v Middlesbrough Padel Club
Final:
David Lloyd Bushey v London Padel Centre
The 3rd Place Play Off:
Middlesbrough Padel Club v Stratford Padel Club
Winners: London Padel Centre
Runners Up: David Lloyd
3rd Place: Middlesbrough Padel Club
4th Place: Stratford Padel Club
Congratulations to all the teams who competed in the finals and well done to Chris Warren and the London Padel Centre at Bishops Park a public pay and play facility in Fulham.
A Word From The Winners
Chris Warren, Managing Director of Rocks Lane Multi Sports Centres and the London Padel Centre, said:
"I love that the barriers to playing padel are so low. Players of different ages and abilities can all play together and have lots of fun. It appeals to young and old, male and female, and families. Our new London Padel Centre is all inclusive with free play for children and pay and play options for all. Padel is proving extremely popular and I'm looking forward to seeing more people enjoying this sport when we add padel to both our Barnes and Chiswick centres in 2019.
The icing on the cake for us is that our London Padel Centre Team have been crowned the inaugural National Padel Club Champions for 2019!
I am so proud of all of our staff, coaches and players at our centre who have in just one year become the best team in the UK and inspired over 750 players to give padel a go!
Everyone is welcome at our centre, come down and have some fun!
Padel Rocks!"