Padel Court Construction
We Build Padel Courts
Experience
After researching padel court suppliers since 2016, iPadel have identified some of the best companies in terms of their quality of product and levels of customer service and that is why we are happy to work with them as our preferred suppliers for padel court construction in the UK.
With over ten years experience in padel court construction, they have the knowledge to apply a personal approach to installing state of the art facilities in your club or private residence. They've been involved in building padel tennis courts all over the world, forming strong partnerships with companies that work as hard as they do to maintain the highest standards in our industry. We're growing the sport on solid foundations.
Standards
LTA Padel is looking at introducing minimum standards for any approved padel court installer, a move designed to ensure the quality of courts being built in the UK along with the expertise and experience of the installers. All of our padel courts are manufactured by leading manufacturers in Spain, Italy and now the United Kingdom. We are working with one of the first companies to design, manufacture and install padel courts that are entirely British made.
"
Paul is unquestionably the most experienced padel court installation specialist in the UK. I was highly impressed by his professional, modest attitude, backed up by an in-depth practical experience and technical knowledge of padel.
Peter Gordon Director and Company Secretary
Scottish Padel Federation
"
One of our contractors, are the UK sole distributor of ADIDAS padel court products. As of 31st December 2019, they have installed 63% of the padel courts in the UK. Outside of the UK they have installed many padel courts in different locations each with unique challenges. They are AFP's exclusive distributor in the Caribbean where they have installed their highest specification courts which are wind resistant to 278 km/hour. Installations include 2 courts at the famous Sandy Lane hotel in Barbados.
Another is one of Spain's premium quality court manufacturers, based in the south in the city of Badajoz close to the Portuguese border. Founded in 2010 they have grown significantly with innovative court construction ideas and have been highly successful all over Europe including Scandinavia and are the official court sponsors of the German Padel Federation.
Our Italian supplier is one of Europe's leading padel court manufacturers and are increasing production potential from 500 to 1000 courts a year. The UK manufacturer has a wealth of experience in tennis court construction and so padel is a natural progression.
Our UK supplier is one of the first companies to manufacture high quality Padel Courts in the UK which are built for the UK / Northern European market. A high quality product with British steel construction, glass manufactured in the UK and finished in a weather proofing solution to suit their location and use.
Court surface is paramount with all sports and padel is no exception. Our contractors work with world renowned surface providers such as MONDO as well as other World Padel Tour certified surface brands. They all ensure a top quality service from start to finish as well as a top quality after service.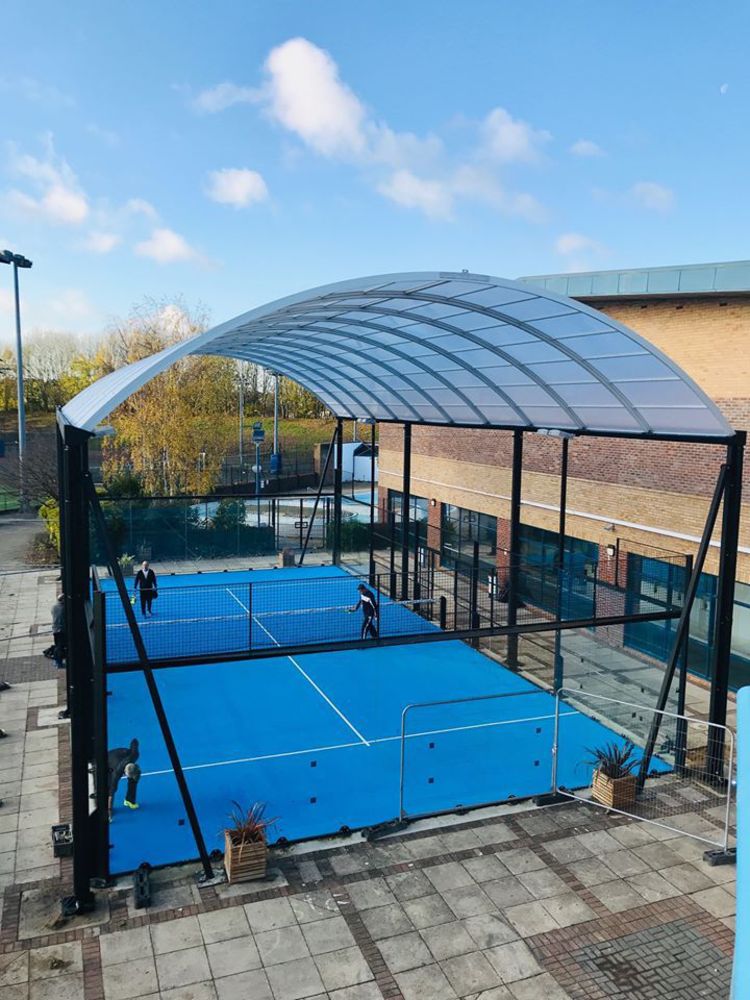 Covered Courts
Our suppliers also provide a wide range of canopies and external features as well as even ball catching nets for outdoor clubs situated near busy roads. Canopies, although not essential, provide your courts with the necessary protection from the British weather and therefore increase court time and revenue.
Consultancy Service
iPadel offer your venue a consultancy service to help you with all aspects of your padel court project. We will arrange free quotes from at least three suppliers to give you a comparison, including for any preparatory ground works which may be necessary. All suppliers will provide at least a 10 year guarantee and offer ongoing service arrangements. Your courts can be branded and coaching clinics or sponsored events can be arranged to help build your padel membership.
Finance
The LTA's facility loan scheme provides interest free loans up to £250,000 and is now available for padel courts, at both new and existing facilities:
Repayment terms up to 10 years
Subject to business plan / adequate security
Must be an LTA registered venue on project completion
Decision within 6 weeks
Other finance packages are available from our suppliers including hire purchase agreements, try before you buy and temporary pop-up padel courts.
Investment
We are also working with companies looking to invest in the building of padel courts and clubs across the UK. This option is suitable for organisations who want to develop padel but do not have the capital to build courts nor want to take out a loan. You have the benefit of new facilities and a new sport which will be very popular in your local community with no financial outlay. The business model works on a profit share based on the pay and play income generated from court bookings.
If you would like more information regarding installing padel courts at your venue please use this form or contact Ian Colligon on 07765 403769 or email iPadel